Four American cities will open new streetcar lines this year, and at least 12 more are expected to advance construction on lines that will open later.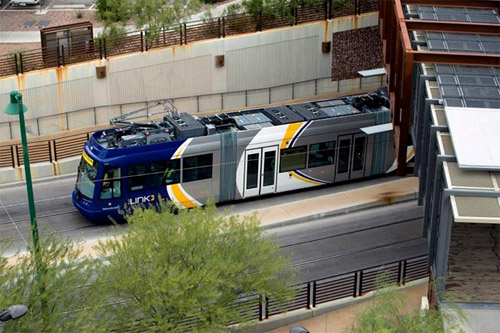 Streetcar undergoing on-street testing in Tucson, Arizona. Photo from the City of Tucson.
The four lines expected to open in 2014 are in Tucson, Washington, Seattle, and Atlanta.
Tucson's Sun Link streetcar will be the first modern rail transit to open in that city. Streetcars there are already on the street, performing pre-opening-day safety tests. Washington's H Street streetcar is in the same testing phase, also visible to anyone on the street.
Seattle's First Hill streetcar will be that city's 2nd new line, after their South Lake Union line opened in 2007. The First Hill route runs next to a cycletrack for much of its length, in an impressive multimodal layout that must be one of America's best complete streets.
Atlanta's downtown streetcar will be notable because it won't use the ubiquitous 66′ long streetcar model first popularized in Portland. Instead, Atlanta will use a 79′ long tram similar to the newer light rail cars in Salt Lake City.
Speaking of Salt Lake City, their Sugar House streetcar opened last month, although since it never runs on-street it's questionable to call it a streetcar.
North of the border, Toronto will shortly begin to use new 99′ long trams on its expansive streetcar network, the largest in North America.
Even more cities will begin construction or continue construction on new lines that won't open until 2015 or later. They include Charlotte, Cincinnati, Dallas, Detroit, Fort Lauderdale, Kansas City, Milwaukee, New Orleans, Oklahoma City, Tempe, San Antonio, and Saint Louis.
Many other cities, including Denver, are considering streetcar routes but haven't begun construction yet.