Happy Labor Day!
This is an exciting time in our great city. On May 19, Mayor Hancock officially launched Denveright, the most comprehensive and holistic planning effort that Denver has even undertaken.
"Great cities don't happen by accident. Many great planning efforts, undertaken with our diverse communities, have helped us create the Denver we're all proud to call home," Mayor Hancock said in a press release. "There is so much about life in Denver that we all love and value, and Denveright is an historic opportunity for everyone in our city to have a voice on the needs and priorities that will shape Denver's future."
Four simultaneous initiatives are currently being stewarded by various agencies in a community-driven coordinated planning process, illustrated by the City of Denver's Denverright infographic, below: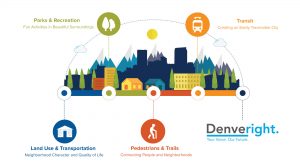 Community task forces for each area of focus were formed in June. Each individual was appointed by city leadership to contribute a unique voice to a diverse group comprised of neighborhood representatives; members of the Inter-Neighborhood Cooperation (INC); one member from each of the Mayor's Pedestrian and Bicycle Advisory Committees; two city council members; representatives from the business community, aging populations, youth and those with disabilities; and members with interest in sustainability, preservation, and civic and community health.
Using input from citizen "think tanks", workshops, public meetings, and surveys that will take place over the next 18 months, these task forces will inform the contents of four upcoming citywide plans that will guide Denver's growth for the next 20 years.
An update of Blueprint Denver, the 2002 citywide land-use and transportation plan.
An update of the Game Plan, the 2003 citywide parks and recreation master plan.
Denver Moves: Transit, a new mobility plan for transit in Denver.
Denver Moves: Pedestrians and Trails, a new mobility plan for sidewalks, crossings and trails.
Denveright is a monolithic planning effort that, if carried off successfully, will shape how and where the current and future citizens of Denver will live, move, work, and play throughout the city. It deserves a spotlight here on DenverUrbanism.
In the coming weeks and months, I will delve deeper into the Denveright planning campaign, starting with a closer look at each of the four tentpole initiatives. Blueprint Denver will be first on the list.  In the meantime, you can check out this four-minute Denveright press video from the city's planning department, and peruse the Denveright website to learn more.